Ravioli filled with asparagus in sage butter
Ravioli filled with asparagus in sage butter
TYPOLOGY
First course
Recommended product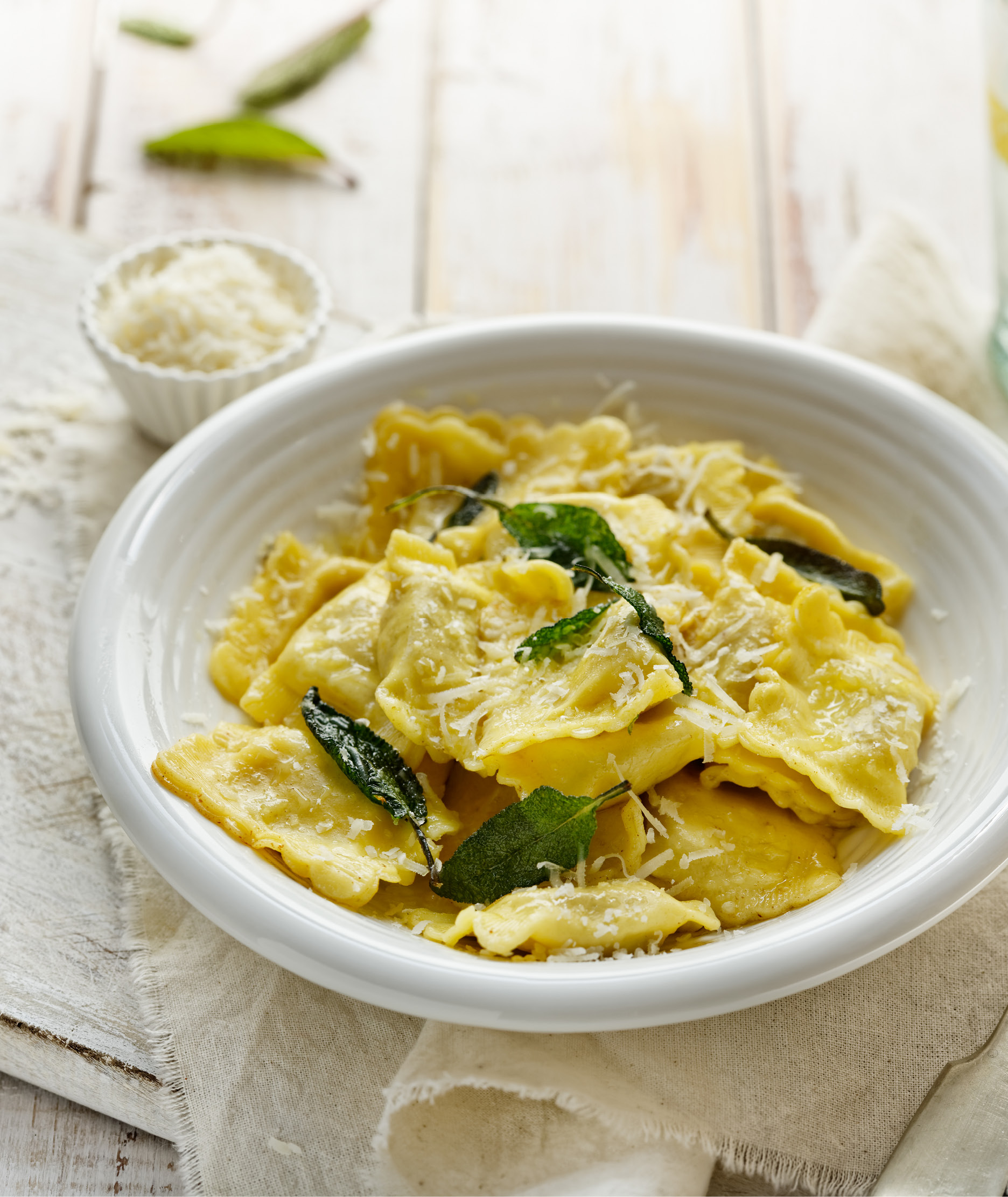 Process
Pour 300 gr of flour on a pastry board, then open three eggs in the and mix well with a fork.
Knead the mixture with your hands until you get an elastic and homogeneous dough.
Wrap and store the dough in the food-film.
Now put a little flour in a bowl, the eggs yolk and the Asparagus Sauce - Salsiamo agli Asparagi.
Knead this new mixture and add some flour until you get a soft and elastic dough.
Take the dough wrapped in the film and roll it out with a rolling pin on the pastry board.
Make  a very thin sheet of pastry.
Cut with a knife 2 long sheets the same size-10 cm wide.
Now spread a large number of  well-spaced little balls of the mixture obtained with Salsiamo right on the pastry-sheets.
Overlap the sheets and press well around the filling, taking care not to break the pastry, so as to seal them with each other.
Cut the ravioli with the pasta cutter and place them on a lightly floured and spaced tray, so that they do not stick.
Now put the butter in a pan and let it melt over a very low heat.
Add the sage leaves to the butter – previously they must be well washed and coarsely chopped.
Amalgamate the ingredients and turn off the heat.
In a saucepan boil plenty of water with 2 drops of oil and salt.
One the water boiled, gently pour the ravioli inside and when they come back to the surface, take them with a slotted spoon.
Place the ravioli in the pan with the sage butter, and let flavor a few moments.
If necessary add a ladle of hot water (take it from the cooking water of the ravioli!), so that the sauce does not dry out too much.
Finish cooking and plate your main course, if you want, adding some flakes of Parmigiano Reggiano, black pepper and some pistachios grain.
Now serve your ravioli filled with asparagus.
Enjoy your meal!