Smoked salmon with Nova Asparagus and boiled potatoes
Smoked salmon with Nova Asparagus and boiled potatoes
TYPOLOGY
Second course
PREPARATION TIME
About 40 minutes
Recommended product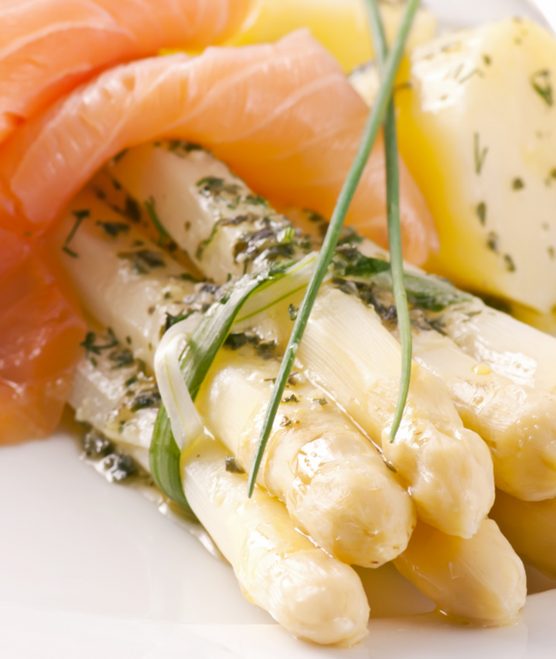 Process
Here is a summer dish as fast to prepare as delicious to taste: smoked salmon with white asparagus and boiled potatoes. You can prepare it as an appetizer before a fish dinner, or as a light second dish  to serve on the hottest summer days, those days  in which the desire to cook is zero, but the desire for something good is ever present!
We recommend using Nova white asparagus. First of all because they are selected from top quality standards and then because they are already cooked, ready to use and they will make your as fast to prepare as delicious!
Here's how to cook it:
Wash the potatoes and put them in a pot, covering them with cold water.
Cook them for 30-35 minutes. They will be ready as soon as they can be easily pierced by a fork or a skewer.
Drain and let them cool.
Now peel the potatoes and cut them into small cubes.
Season the potatoes with extra virgin olive oil, a pinch of salt, mint and some lemon-juice.
Mix it well.
Now arrange harmoniously the salmon slices on a serving dish
Open the can of Nova asparagus and, after draining the asparagus,  add them to the salmon.
Season with a little sage and some lemon juice.
Add the boiled potatoes.
The Chef's signature
I recommend  you to put a string of chives  in a pot with a little oil and a little water. In this way it will get softer and, once cooled, you will use it to tie the asparagus together, as shown in the picture.
Boil 2 eggs.
Cut the eggs to very small pieces (you can use a mixer)  and use the mixture obtained as a garnish, dusting it on the asparagus.
Enjoy your meal!