Tròccoli with porcini mushrooms and octopus
Tròccoli with porcini mushrooms and octopus
TYPOLOGY
First course
PREPARATION TIME
About 75 minutes
Recommended product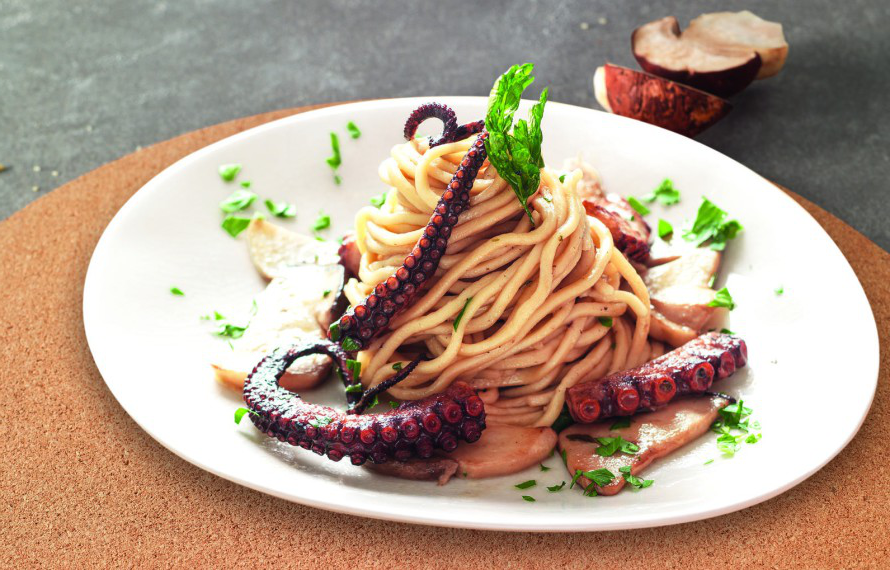 Process
Boil the octopus in cold water with 3 bay leaves, half a lemon, 2 cloves of garlic and 200 g of white wine for 40 minutes.
When it is ready, let it cool in its water.
Then drain the octopus, remove the skin and cut into touches.
Clean the Porcini mushrooms, cut into slices and brown them in a pan with 20 g of oil, a clove of garlic and leave them for 2-3 minutes on high heat.
In the meantime, brown the octopus with 2 tablespoons of oil and a clove of garlic over a moderate heat for 2 minutes, then remove the garlic and continue for another 2 minutes.

Remove the Porcini mushrooms from the pan and in the same pour a glass of red wine instead.

Let reduce for 2-3 minutes, then add the octopus again, sauté everything for less than 1 minute and turn off.

Boil the tròccoli in boiling salted water and drain in the octopus pan.

Return to the heat, add a bunch of chopped parsley and mushrooms Porcini Nova, complete with a drizzle of oil and put out.

Serve immediately completing to taste with a finely chopped parsley.
Enjoy the meal!